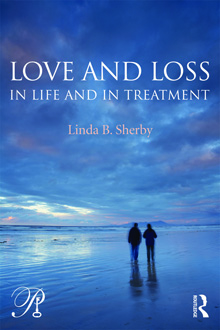 Love and Loss in Life and in Treatment is a unique book in that it intertwines memoir with my work with patients and gives the reader the opportunity to learn what a therapist thinks and feels as she both lives her life and works intensively with patients.
Purchase on Amazon
Purchase on Barnes & Noble
Purchase on Routledge
LOVE AND LOSS
In Life and in Treatment
Have you ever wondered about your therapist's personal life? Does the ring on her finger mean that she's blissfully married? And if so, will that result in her being better or less able to understand your frustrations with your spouse? Do the difficulties in your own life resonate with those of your therapist in a personal way, and how do such resonances affect the course of your treatment?
In her brave and ground-breaking new book LOVE AND LOSS, In Life and In Treatment (Routledge · March 6, 2013) Linda B. Sherby addresses these questions head-on as she tells the story of the greatest love and loss of her life—her marriage to a much-loved husband and her grief at his passing---through the lens of her work as an accomplished psychotherapist.
Writing as both a psychoanalyst and a widow, Sherby makes it possible for the reader to gain an inside view of the emotional experience of being an analyst, while also offering unique insights on how to live through grief. Sherby shows how patients' and therapists' independent experiences of love and loss, as well as the love and loss that they experience in the treatment room, intermingle and interact. The result is unique, even unprecedented, in its focus on the analyst's current life situation and how that necessarily affects both the analyst and the treatment. Marked by a remarkable willingness to share the personal memoir of her own loss, Sherby interweaves extensive clinical material to clearly illustrate the effect the analyst's current life circumstance has on the treatment while demonstrating what both parties can learn from the experience.
LOVE AND LOSS illustrates that in order to grow and thrive, we must learn to mourn, to move beyond the person we have lost while taking that person with us in our minds. Love, unlike loss, is not inevitable but, she argues, no satisfying life can be lived without deeply meaningful relationships.
Appearance on NPR's Topical Currents: Love & Loss: Suddenly Solo.
Interview with radio host Joyce Kaufman.